With the arrival of Li Chun (立春) on 4th February 2022, the year of the Water Tiger (壬寅) will soon be upon us.
一日之际在于晨
一年之际在于春
一生之际在于勤
This classic proverb highlights the importance of early planning as a condition for success.
Spring is the season of the year when many new clients acquire their first Imperial Harvest Treasure and embark on their lifelong Imperial Harvest journey.
Over the years, Master David has designed and patented many timeless and elegant Imperial Harvest collections. Constantly drawing his design inspiration from the auspicious Chinese dynastic emblems and iconic historical figures, Master David aims to deliver impeccable aesthetics paired with superlative craftsmanship.
Fine Jadeite Ammonite of Fortunes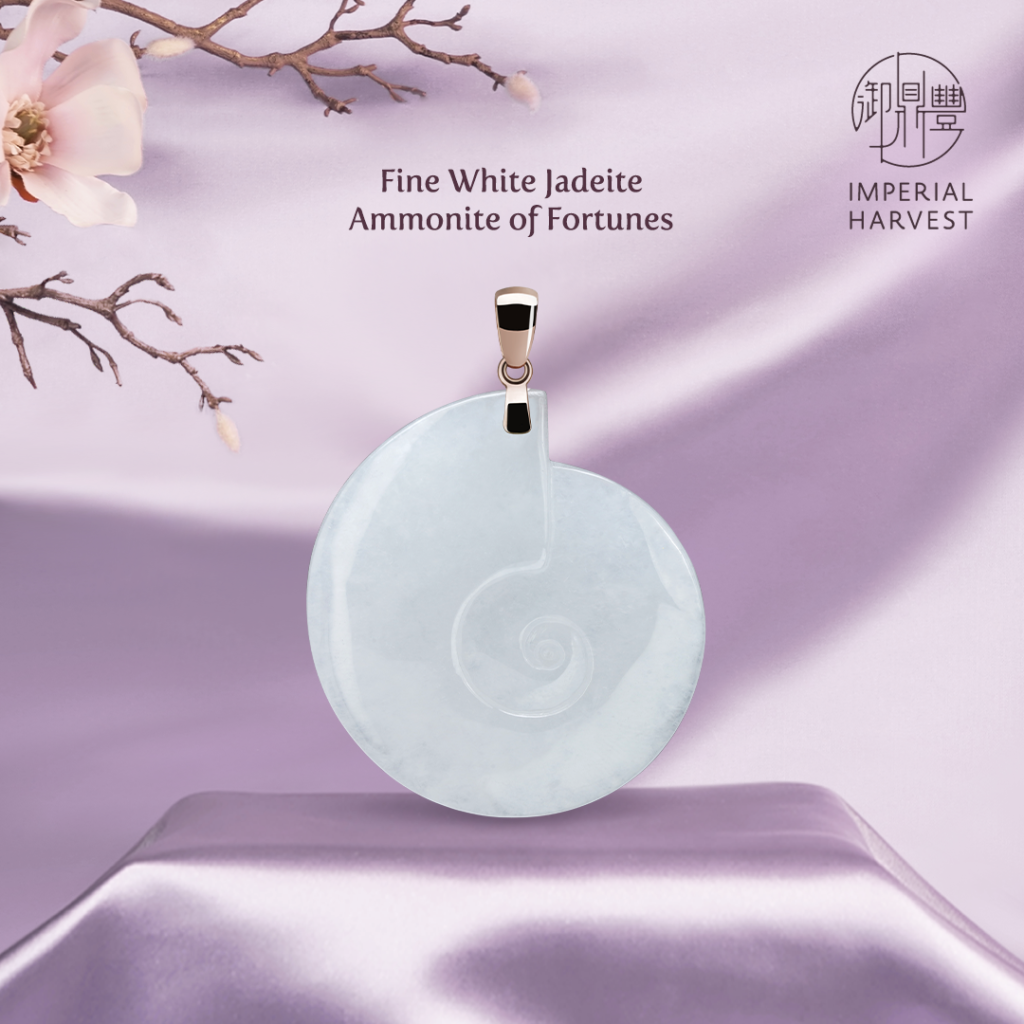 One of the most sought after Imperial Harvest jadeite treasures, the Fine Jadeite Ammonite of Fortunes has empowered numerous clients to achieve career and sales breakthroughs since its inception. Inspired by the beautiful silhouette of an ancient marine mollusc, ammonites are the fossilised remains of a variety of different deep-sea creatures.
These sea creatures are believed to have become a vessel for the earth's vital energies during their fossilisation, having been buried underground for thousands of years. Today, it stands as an auspicious emblem in Chinese culture due to its resemblance to the scales of the mythical Qilin, a creature in Chinese mythology symbolising abundance and prosperity.
Converting obstacles into opportunities, the Fine Jadeite Ammonite of Fortunes holds a reputation as an excellent generator of luck, having empowered numerous blessed clients with an abundance of prosperity, alongside fast-tracking their respective careers to receive attractive career advancements and prospects.
Fine Jadeite Bamboo of Successive Blossoms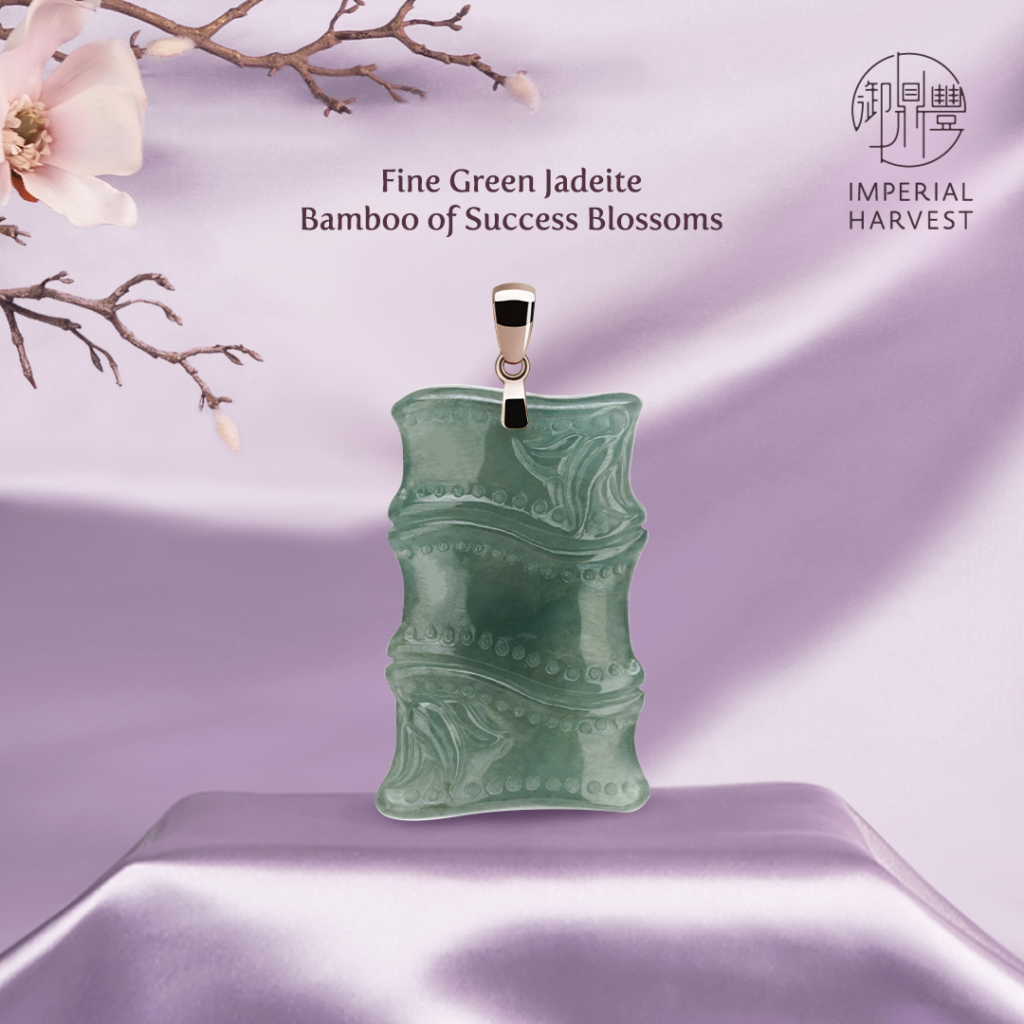 Inspired by a lush bamboo grove, the Fine Jadeite Bamboo of Successive Blossoms draws on the bamboo grass' ability of continuous growth and growing resilience with each passing season. Its capacity to weather through the harshest conditions symbolises lasting success. The bamboo grass' flexible quality to bend without breaking is a powerful metaphor representing strength in challenging times. Its ladder-like structure reflects the steps leading towards power and consecutive business success.
Since its inception, the Fine Jadeite Bamboo of Successive Blossoms has garnered rave reviews from Imperial Harvest's family of blessed clients. It was designed to assist its destined owner to achieve never-ending breakthroughs, leading to it cementing its status as one of the most popular treasures amongst those just starting on their Imperial Harvest journey. With this Imperial Harvest treasure in tow, destined owners find themselves propelled to new heights in their careers and businesses, inspiring continuous improvement and unyielding resilience.
Fine Jadeite Midas Touch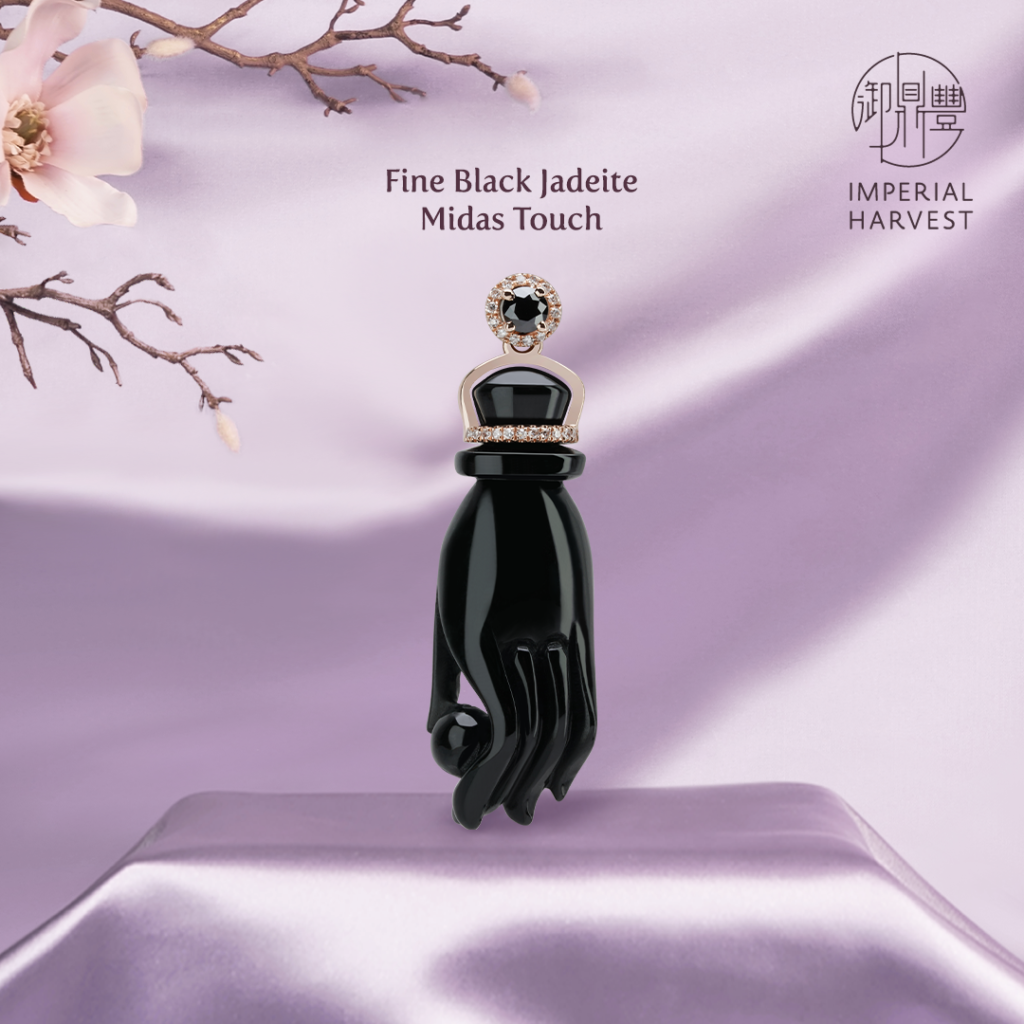 A firm favourite of many blessed Imperial Harvest clients for its elegant design, tasteful artistry and impeccable craftsmanship, the Fine Jadeite Midas Touch embodies the immense and boundless blessings of the Goddess of Mercy's most formidable representations.
This exquisite treasure's design represents the slender and elegant hand of Guan Yin, the Bodhisattva of Compassion and Mercy, holding the omnipotent wish-fulfilling pearl. In Chinese culture, the pearl blesses its destined owner with good health, family harmony and blissful relationships.
Designed to attract strategic benefactors and powerful mentor support, the Fine Jadeite Midas Touch empowers its destined owner to rise to the top of the corporate ladder, rising to the top echelons of their respective careers. Since its initial introduction to Imperial Harvest, it has inspired many clients to become leaders and innovators in their industries.
Fine Jadeite Laughing Buddha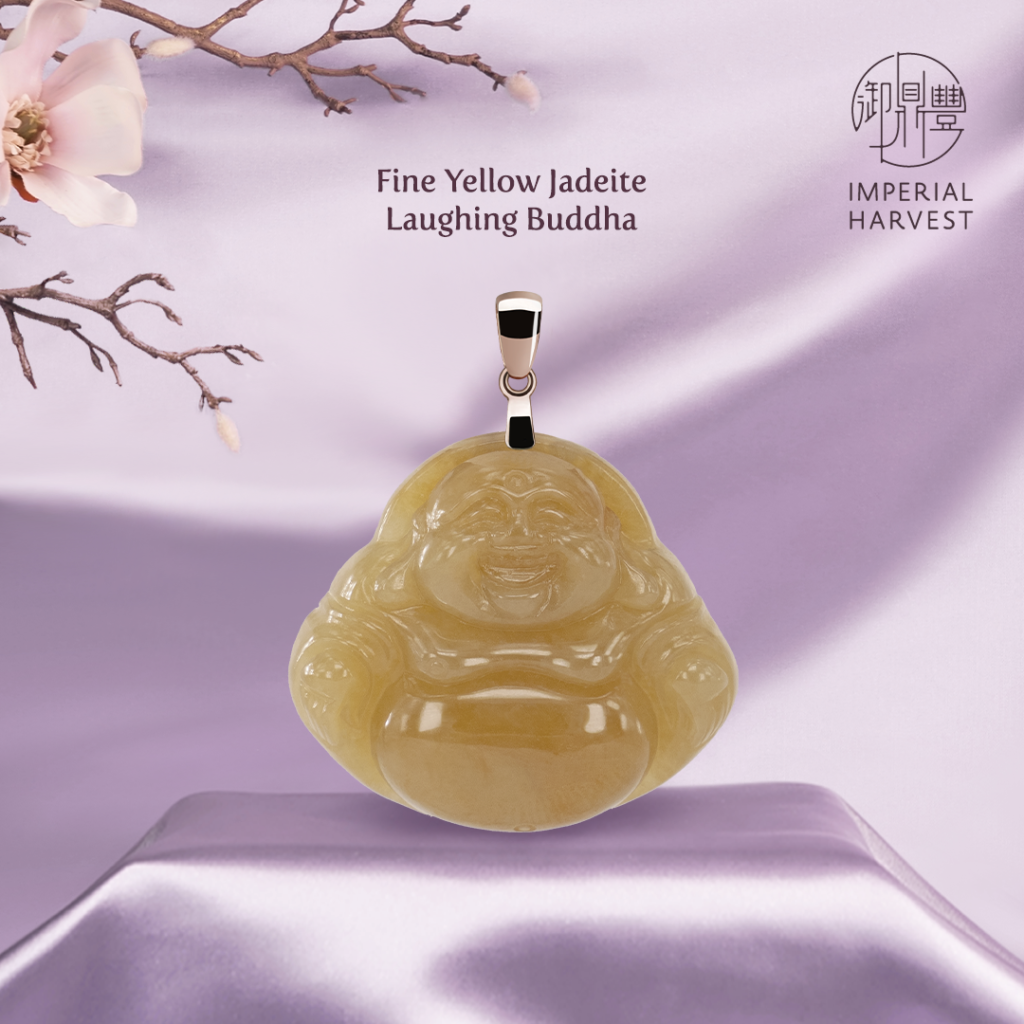 A familiar symbol of happiness and positive aspirations, the Laughing Buddha is a well-known symbol of Buddhism based on the story of a Buddhist monk who lived in 10th century China. Often considered to be a reincarnation of Gautama Buddha, the Laughing Buddha is believed to bring lighthearted energy, joy and laughter to an otherwise mundane life.
Regarded with great reverence in Imperial Feng Shui, the Laughing Buddha is a figurehead of wealth, happiness and satisfaction — bringing good fortune, abundance, joy and success to its destined owner.
An elegant infusion of Imperial Feng Shui principles, Chinese culture and forward-looking design sense, the Fine Jadeite Laughing Buddha manifests the opportunities sought after by its destined wearer, additionally inspiring a positive and groundbreaking state of mind.
Fine Jadeite Money Magnet Grand Wealth God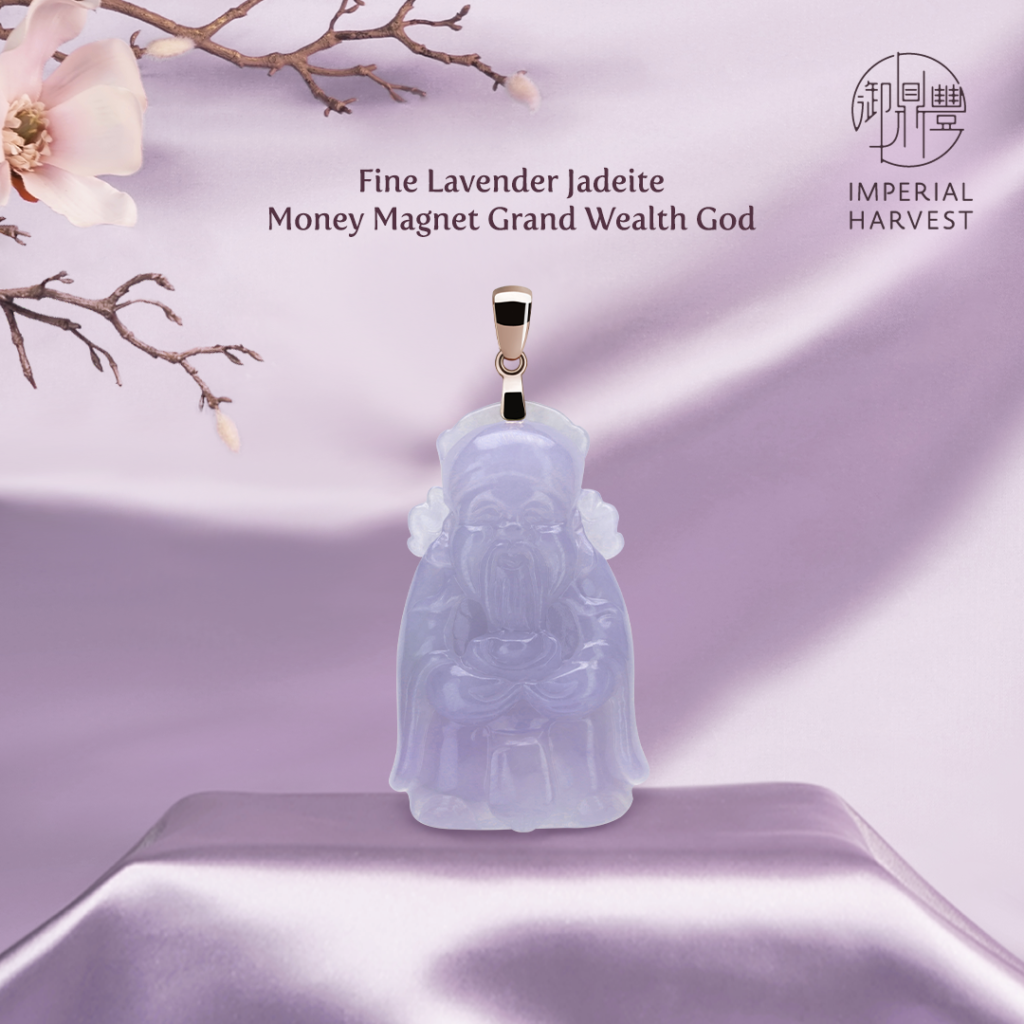 Embodying a powerful manifestation of Bi Gan, the Grand Wealth God, the Fine Jadeite Money Magnet Grand Wealth God attracts and manifests both direct and indirect wealth through its powerful wealth enhancing features. Immortalising a benevolent god who bestows boundless fortune and wealth both generously and impartially, it comes as no surprise that this Imperial Harvest treasure has garnered a close following amongst our family of blessed clients.
Since its inception, Imperial Harvest's clients have found much success in their financial endeavours, and have become the movers and shakers of their respective industries. As such, Bi Gan is often prayed to during major Chinese festivals, particularly during the Lunar New Year in order to bring boundless wealth, auspiciousness and success for the year to come.
Five Wealth Gods
Drawing from powerful manifestations of the Wealth Gods of Chinese culture, Imperial Harvest's signature Five Wealth Gods collection immortalises these figures of auspicious luck, especially favoured by those looking to prosper their direct wealth prospects and fortunes leading up to the Lunar New Year.
Conceptualised by Master David, the signature Five Wealth God collection is steeped in Chinese culture, with each feature specially designed to usher wealth and prosperity.
Grand Wealth God Bi Gan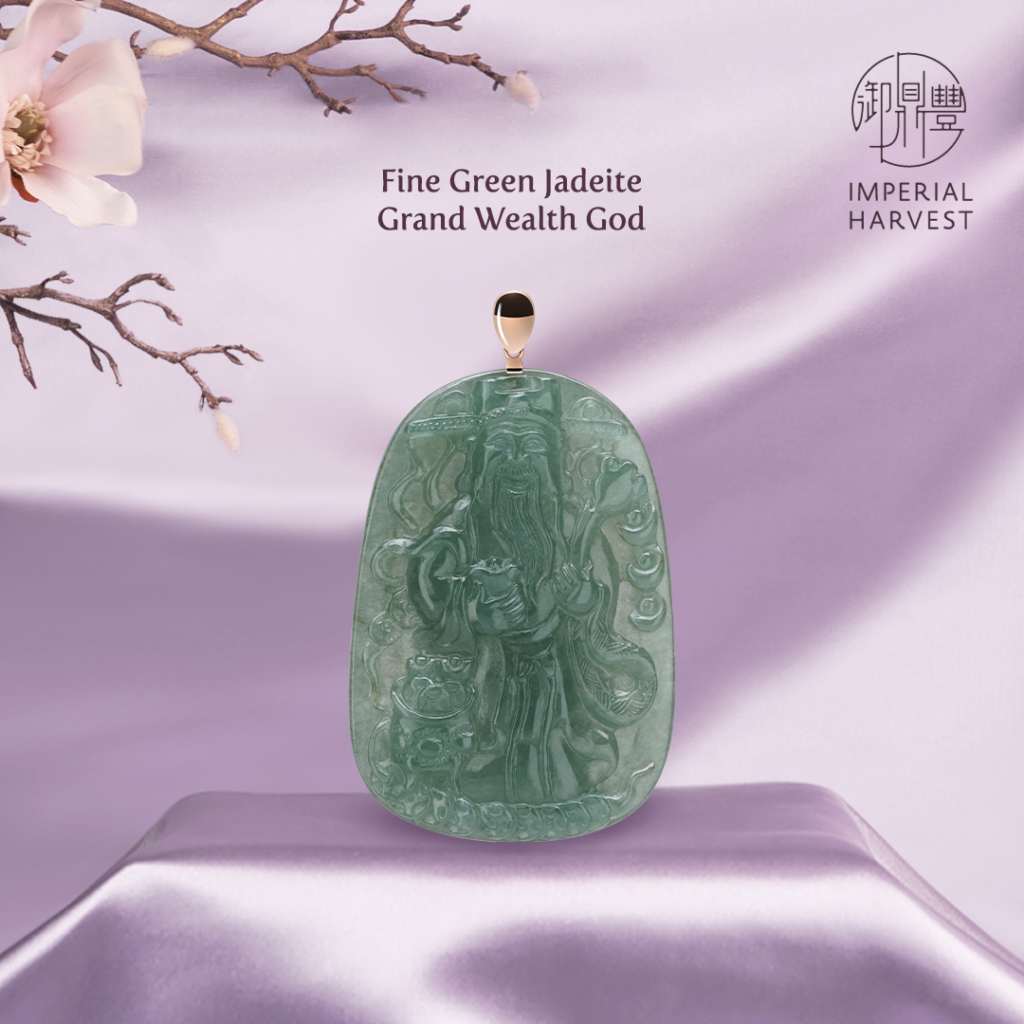 According to the annals of Chinese history, Bi Gan was a prominent premier who served King Zhou of Shang, carefully guiding the administration of the Shang dynasty. Under his intelligent stewardship, the Shang dynasty flourished and prospered, ushering in the first golden age in China's history. Imperial Harvest's Fine Jadeite Grand Wealth God draws from Bi Gan's eminent authority, power and influence, immortalising his provenance and melding it with a trio of auspicious emblems — the Wealth Garnering Pot (聚宝盆), the Ruyi Sceptre (玉如意) and the Wealth Garnering Gold Ingot (聚财金元宝).
Incorporating these emblems of prosperity into its signature design, the Imperial Harvest Jadeite Grand Wealth God bestows blessings of monumental financial breakthroughs upon its destined owner, enabling them to climb to new heights in their careers and achieve their desired goals and aspirations.
Career Wealth God Tua Pek Gong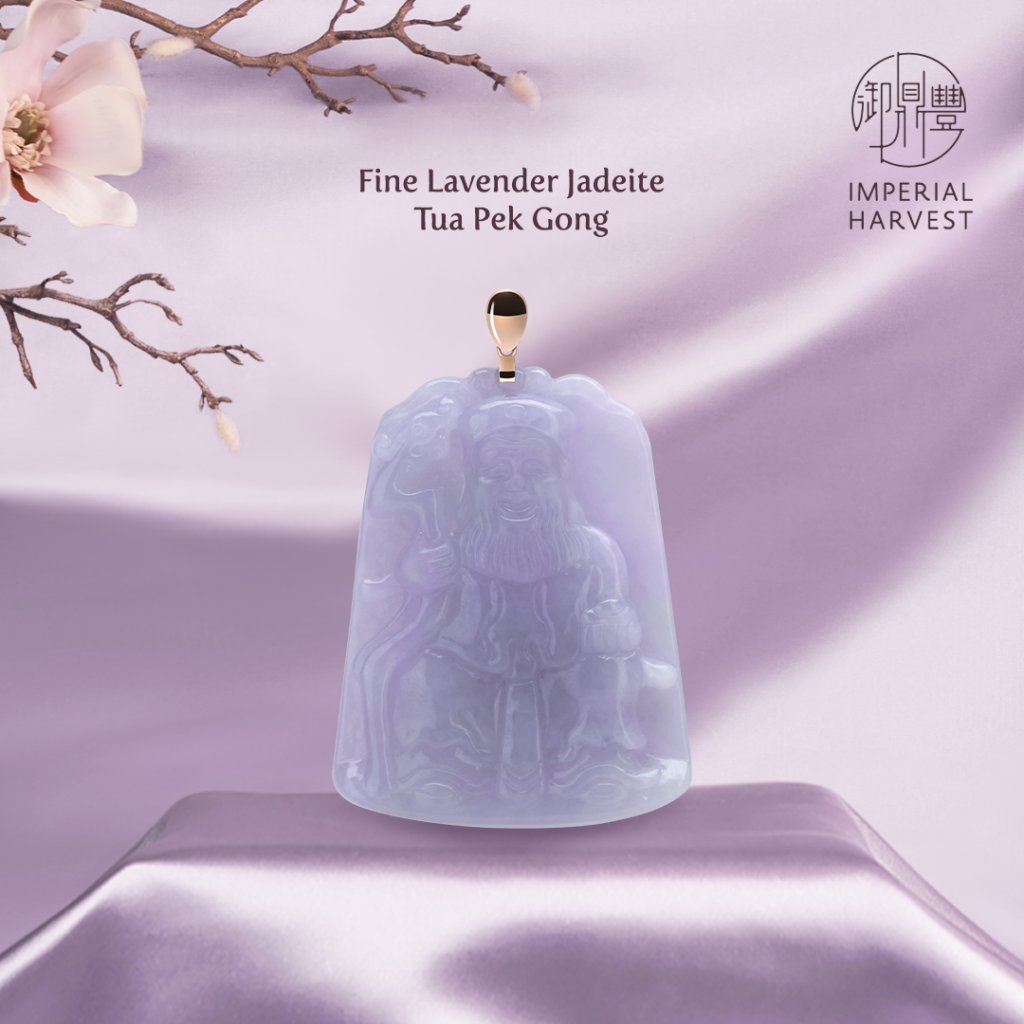 Widely worshipped as the Career God of Wealth, Tua Pek Gong was also known as Fu De Zheng Shen (福德正神) and found his roots as a top government official during the Zhou Dynasty. He held a role similar to that of a modern-day Finance Minister, in charge of taxation and other financial matters within the empire. With great power, authority and wealth, he was deeply respected by the people who came to heavily associate him with career success. As the Career God of Wealth, Imperial Harvest's Fine Jadeite Tua Pek Gong is ideal for those who are looking for massive breakthroughs in their careers, as well as for attracting powerful benefactors and mentors.
Immortalising one of the most potent wealth gods, this esteemed Imperial Harvest treasure incorporates powerful auspicious symbols connected with Tua Pek Gong — namely the Dragon Scepter (玉龙杖), Gold Ingot (玉带环腰) and Jade Belt (金元宝). Harnessing their combined effects, the Fine Jadeite Tua Pek Gong commands power, authority and wealth for its destined owner. A classic treasure from Imperial Harvest, it has empowered wearers to attract consistent career advancement opportunities, as has since seen numerous clients climb to the very top echelons of their corporate fields.
Business Wealth God Guan Gong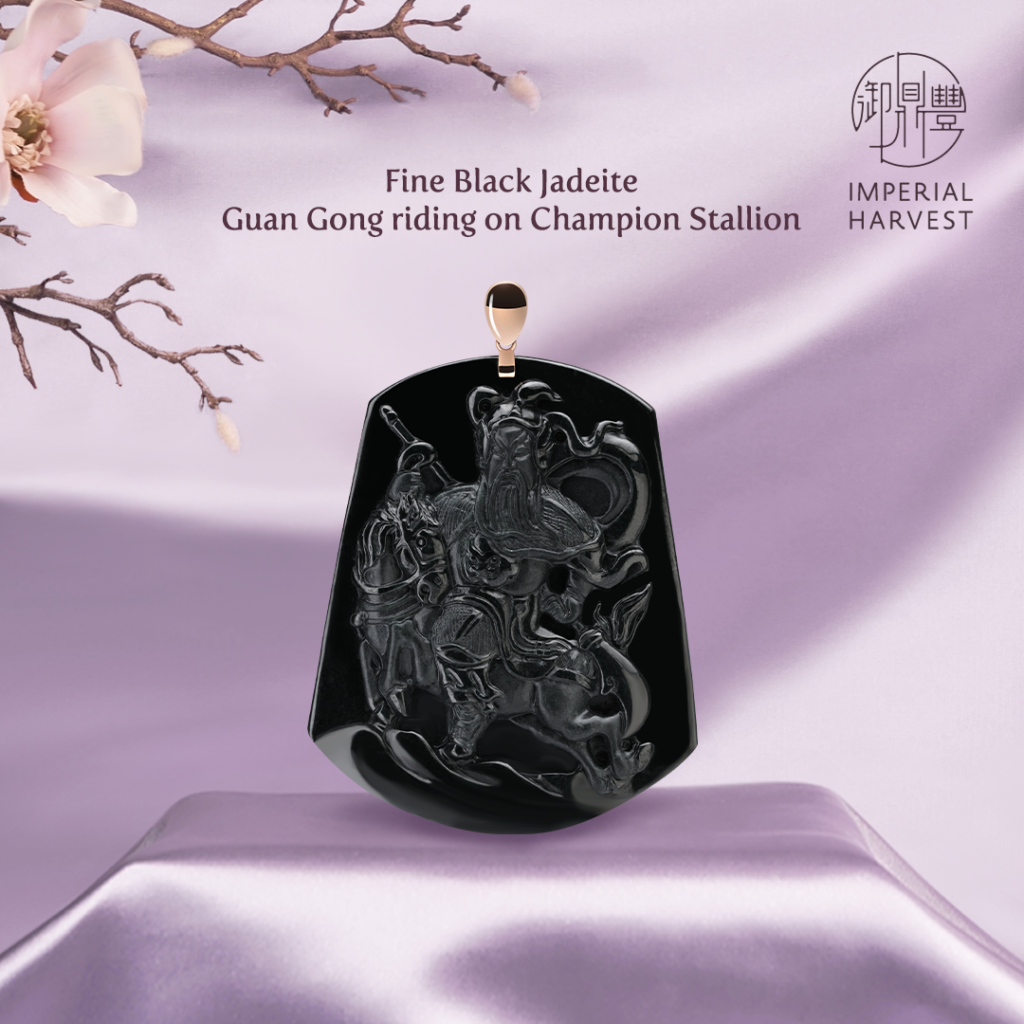 The Business Wealth God Guan Gong was first known as an army general towards the end of the Eastern Han dynasty. Respected for his bravery, power and authority, he was renowned for his devotion towards the dynasty. Guan Gong came to be seen as a symbol of unity and loyalty amongst his devotees, becoming widely known and venerated as the Business God of Wealth.
Imperial Harvest's Fine Jadeite Guan Gong is carved with the most powerful manifestation of Guan Gong — the Victorious Guan Gong, a depiction of the Business Wealth God wielding his sabre while riding atop the Champion Stallion. The ultimate symbol of monumental breakthroughs, and triumph over adversity, he inspires business success, blessing business owners with benefactors, mentor support and lucrative opportunities. Removing malefactors from its destined wearer's path, the Fine Jadeite Guan Gong enables its destined owners to overcome their challenges with ease. Since the launch of this powerful treasure, many clients have prospered and achieved monumental successes in their respective fields.