Spring 2022 – Business God of Wealth – Guan Gong
Out of the Five Wealth Gods that are thought to be the most formidable manifestations of auspicious luck and wealth within Chinese culture, Guan Gong is widely known and worshipped as the Business God of Wealth.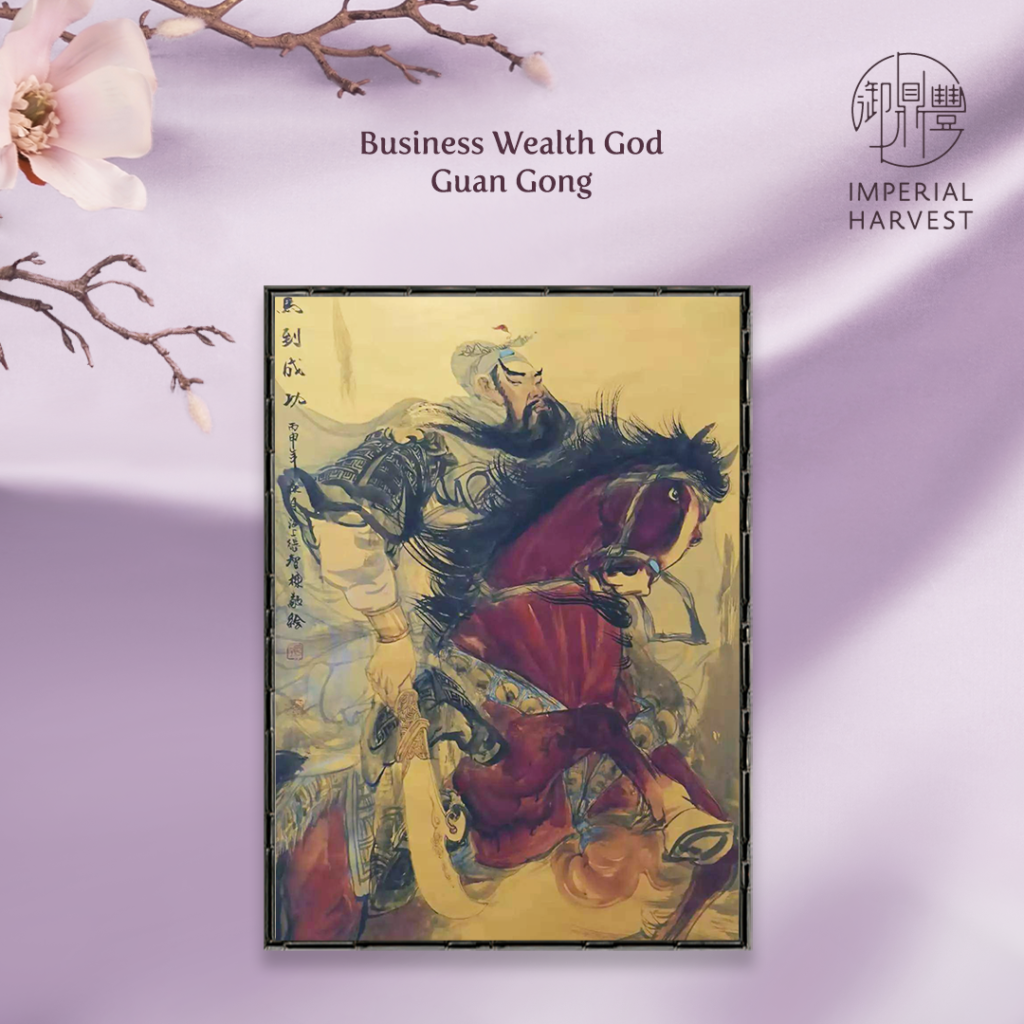 Where the Grand Wealth God Bi Gan is central to the heightened emphasis on prosperity, good fortune and abundance during the Lunar New Year, the remaining two direct wealth gods — Guan Gong and Tua Pek Gong — play no small part during this highly auspicious period.
During the late Eastern Han dynasty, Guan Gong served as a high-ranking military general under the warlord, Liu Bei (刘备). As a military leader, he held an undying commitment to restoring the glory of the Han dynasty, working to repel hostile forces that threatened to jeopardise it. His strategic acumen, strong morality, alongside his bravery and loyalty established a solid reputation for Guan Gong as one of the most formidable figures of his time.
Today, Guan Gong's legendary tenacity, foresight and courage are widely revered as desirable attributes and characteristics, especially amongst entrepreneurs and is recognised in his deification as the Business Wealth God.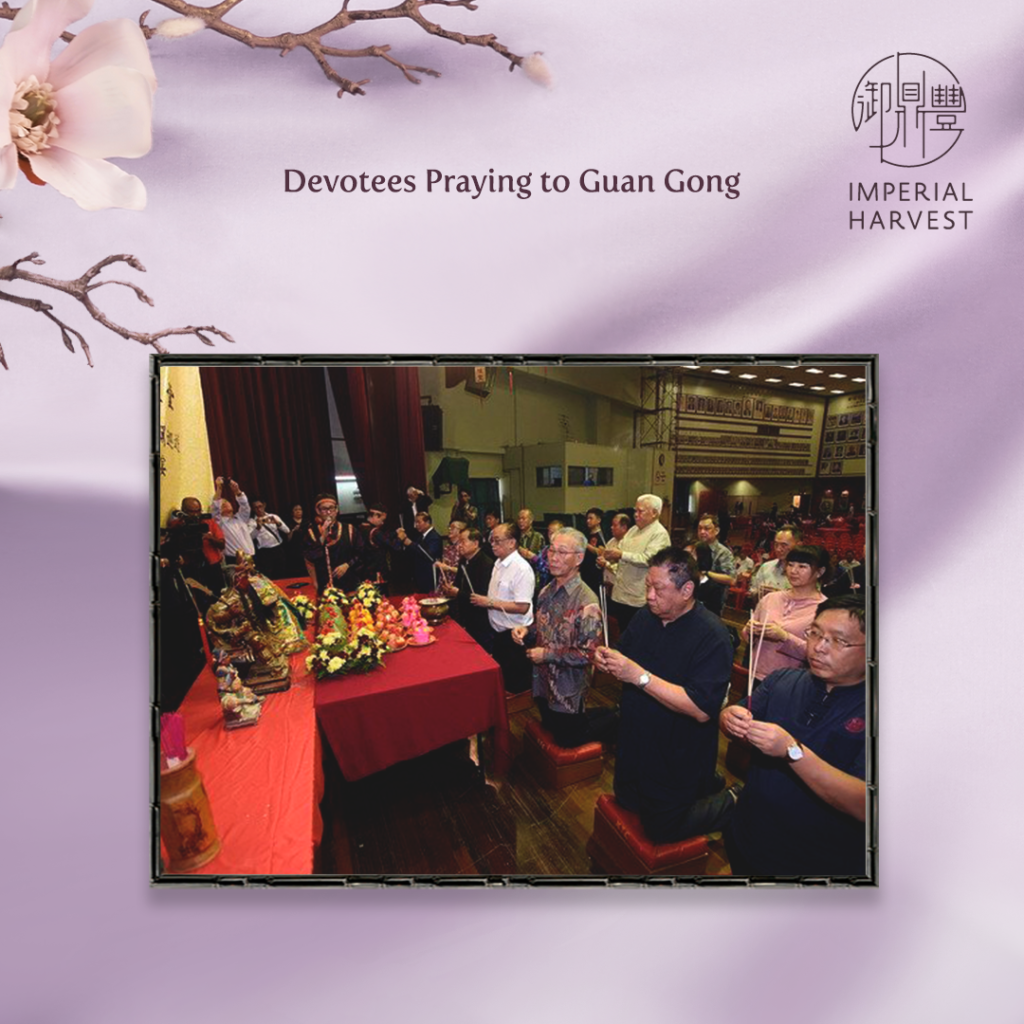 Much like Bi Gan, Guan Gong's guidance and blessings are often celebrated and sought out during the Lunar New Year. The 13th day of the Lunar New Year is often attributed to Guan Gong, with many businesses and organisations praying for his blessings to ensure their continued prosperity for the year ahead.
Both wealth gods oversee the direct wealth aspirations of their devotees, however, an important distinction to make is that Guan Gong's influence leans towards the business fortunes. In his role as the Business Wealth God, Guan Gong's guidance and influence are actively sought out by countless entrepreneurs in pursuit of their dreams.
The Lunar New Year presents a highly favourable opportunity to kick off the year of the Water Tiger with optimal guidance and direction from this formidable direct wealth god. Empowering devotees with the qualities necessary to excel at business, our blessed clients are poised to usher in another year of prosperity and abundance.
Business Wealth God, Guan Gong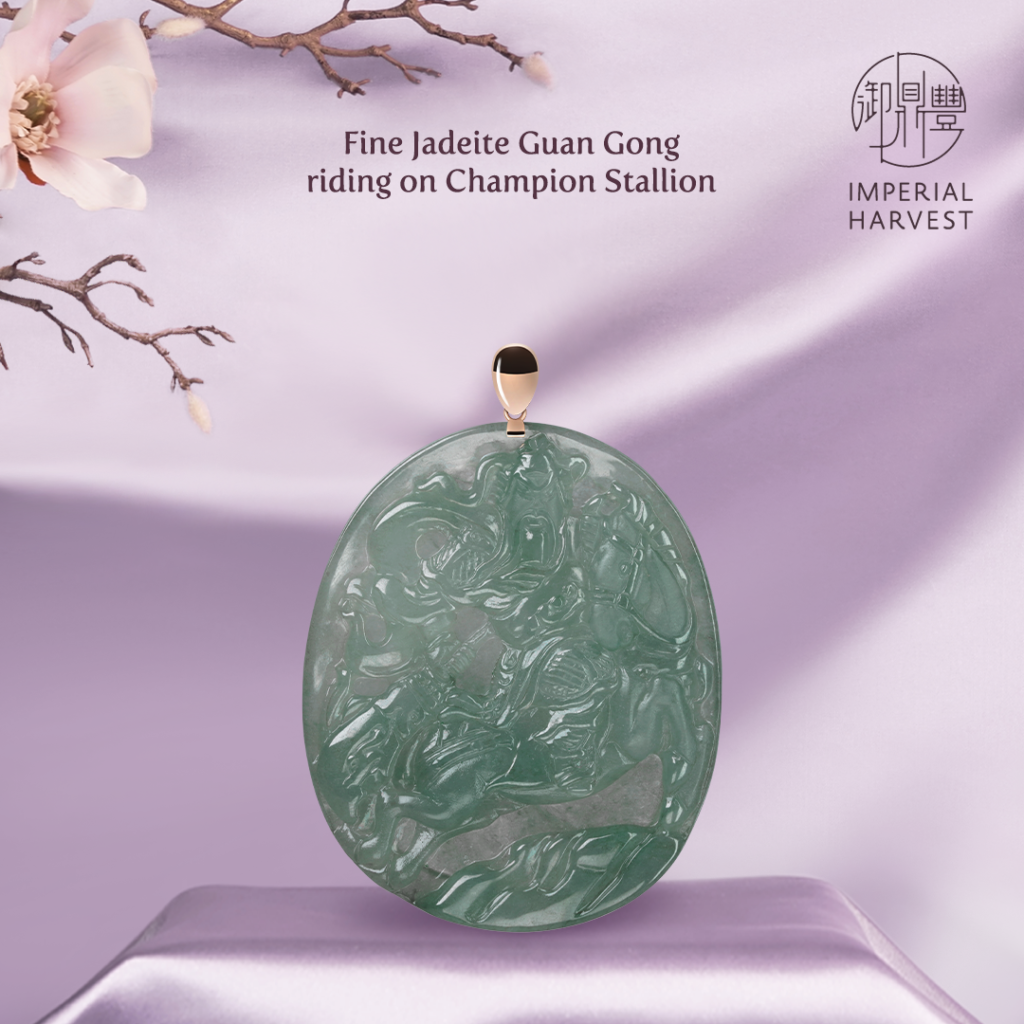 Conceptualised by Master David, Imperial Harvest's Fine Jadeite Guan Gong depicts the most powerful manifestation of Guan Gong — the Victorious Guan Gong (常胜关公). This depiction of Guan Gong wielding his sabre while riding atop the Champion Stallion makes for the ultimate symbol of victory and triumph. Possessing the strategic acumen, foresight and intuition necessary to excel in the contemporary world of business, the Business Wealth God Guan Gong brings massive financial breakthroughs and sales to its destined owner.
As befitting Imperial Harvest's collections of superlative jadeite treasures, the Fine Jadeite Guan Gong is likewise meticulously cut, hand-finished and manually polished by our master artisans. Each of these artisanal masters boasts a wealth of multi-generational techniques and expertise in their craft, and follow a series of precise specifications established by Master David. This results in an exquisite, and intricate treasure that exemplifies the highest tiers of craftsmanship.
The Champion Stallion (千里马)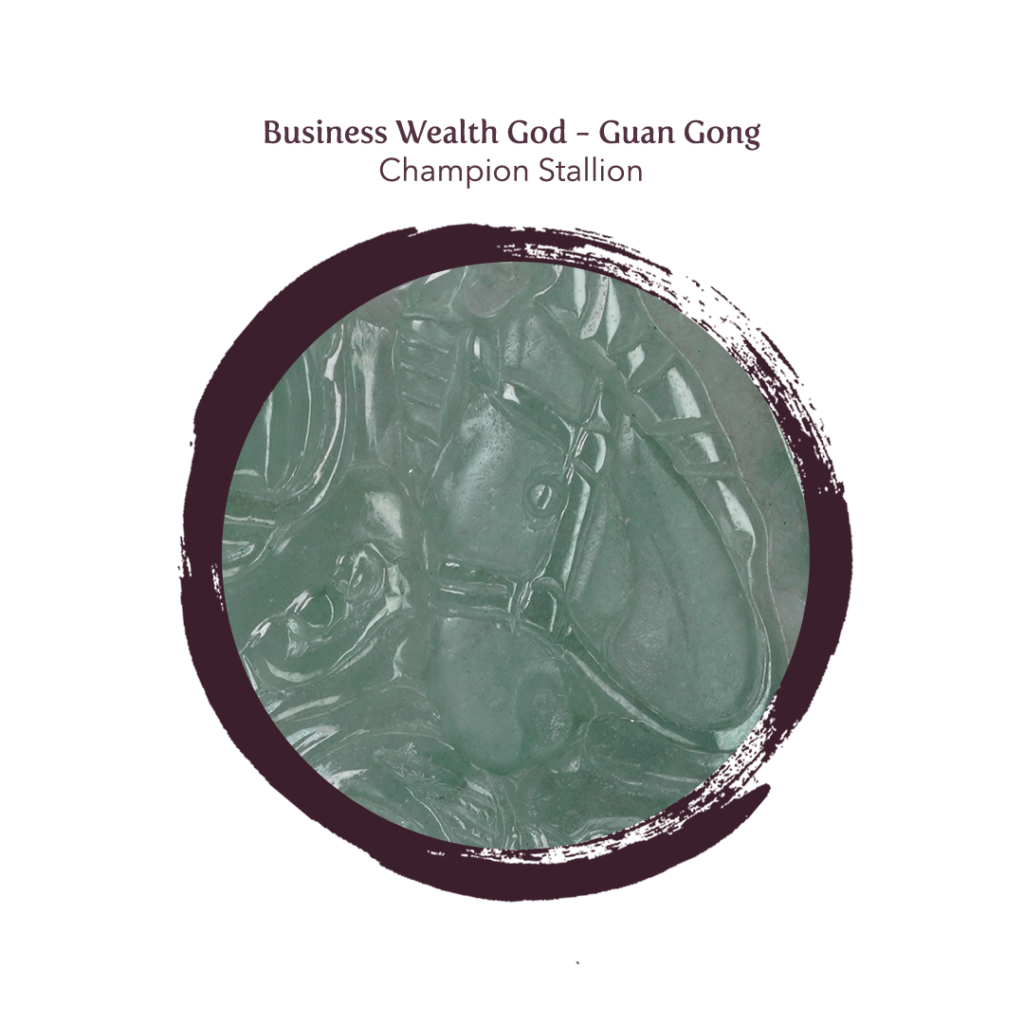 Imperial Harvest's Fine Jadeite Guan Gong depicts the renowned military general riding atop the Champion Stallion. According to legend, the champion stallion is an exceptional breed of horse capable of travelling great distances, travelling thousands of miles in a single day. Master David's intentions for Imperial Harvest's blessed clients is exemplified in the Champion Stallion's incorporation into the design of the Fine Jadeite Guan Gong, ensuring that the success behind Guan Gong's exploits, along with his qualities, follow them in their entrepreneurial ventures.
The Champion Stallion enables your businesses and sales to grow by a thousand leaps, making this manifestation of Guan Gong an ideal treasure to aid business owners and sales professionals realise their aspirations to ascend to the top echelons of their respective fields. Symbolic of the thousandfold leap in revenue and market shares that this fine jadeite treasure heralds for the ambitious entrepreneur, the Champion Stallion also ushers monumental breakthroughs and successes, enabling its destined wearer to achieve exceptional results in their endeavours.
Green Dragon Sabre 青龙偃月刀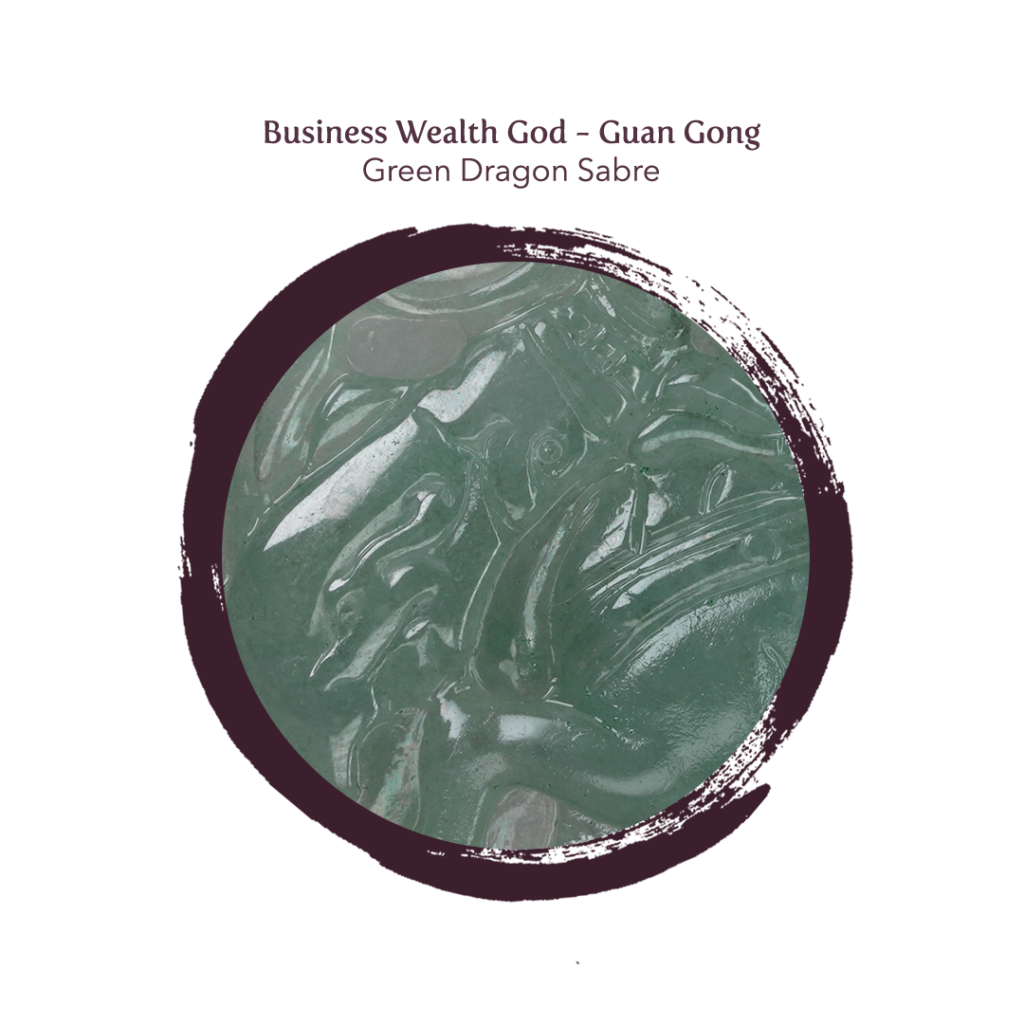 Wielding his Green Dragon Sabre, Guan Gong was able to overcome challenging hurdles and harsh adversaries — defeating the most powerful generals during the Eastern Han dynasty.
Removing malefactors from its destined owner's path to success, the Green Dragon Sabre enables business and sales professionals to overcome their challenges with ease, eliminating stiff competition, obstacles and challenges. Empowering budding entrepreneurs to emerge victorious in their business ventures, and opening up a clear runway to attaining their greatest goals and aspirations.
A paradigm of loyalty and unity, Guan Gong aids business owners in building closely-knit teams and growing an organisation that is both loyal, reliable and capable of powering their businesses to rapidly scale and grow.
With the blessings of the Fine Jadeite Guan Gong in tow, destined owners are empowered with the abundance of benefactors and opportunities that his influence presents, inspiring them with phenomenal growth and everlasting business success.